How It Works
The New Age of Real Estate…
This is How Smart People Buy, Sell and Close on their Homes.

There is no reason in this day and age not to sell on your own unless, you don't want to save money.  Even if you are hesitant about selling your home yourself, with our For Sale By Owner Flat Fee MLS plan you need not be.  If you can answer calls and do your own showings, iRealty can guide you through the entire process.  With iRealty you will receive the same exposure and counseling as any full commission real estate brokerage, while saving yourself thousands in commission. iRealty can provide you a yard sign lockbox, professional photography and all the legal documents needed to sell your property.
iRealty For Sale By Owner Flat Fee MLS syndication Where will your property be listed? On the Realtors MLS, national sites and the sites that they power, totaling more than 1500 real estate search web sites.
National studies
show that 90% of home buyers search for their homes on the internet.  It just goes to show you it's not who lists your property, it's where it is listed that matters. For Sale By Owner Flat Fee MLS is the perfect solution for selling and saving thousands on commission. The full commission brokers will charge you commission even if they are not the procuring cause. With iRealty you can still sell For Sale By Owner and pay no commission for unrepresented home buyers.
What Does Your Listing Included:
Listing on Realtor's MLS
Syndication
25 Pictures
All Legal Documents
Property Brochure
Cancel At Anytime
Open House Notices
Unlimited Changes
Broker Guidance
Contract Negotiation
Closing Services
All Leads passed on to you – we are never the competition
One Stop Shop For Selling Your Home
For more information please visit our FAQ page.
How to order your MLS Listing:

Please print out forms located on "Forms" page.
Property Data Input Form
Listing Agreement
Disclosures:
-Illinois Property
-Radon 
-Lead Paint
1.   Complete forms and fax or email to iRealty Flat Fee Brokerage
2.   Email pictures in named order how you would like them to be viewed. If they are not in any specific order they will be loaded as is.
Image Quality: For best quality, upload JPEG formats, 1920 x 1080 pixels in size. Other digital formats (GIF,BMP,TIFF, etc.) and sizes will be automatically converted and resized by the system.
For Example:
1 Front
2 Kitchen
3 Living Room
The MLS has specific rules regarding Photos, please read below.
Primary Photo: The primary photo submitted must be an exterior shot of the residence/business and secondary photos can include additional exterior and/or interior shots. All photos should pertain strictly to the subject property and may not prominently display any names, phone numbers, e-mail addresses, internet or other URL link information, comments, web-site addresses, logos, branding, for sale signs or persons.
Exceptions: All listings except vacant land, new construction, confidential commercial listings and deeded parking/boat slips must have a primary photo in the system within seven (7) days of their entry into the system. Failure to comply with this rule may subject you to a fine.
Image Quality: For best quality, upload JPEG formats, 1920×1080 pixels in size. Other digital formats (GIF,BMP,TIFF, etc.) and sizes will be automatically converted and resized by the system.
Image Cloning: Cloning of any photo submitted by a different brokerage firm is strictly prohibited. Violation of this rule will result in an automatic $250.00 fine per occurence.
3.  Order your listing and any additional products or services on the "Payment Center" Page.
Your work is done! 
Within 24 – 48 hours of receiving all completed paperwork, your listing will be on the MLS. The other sites your home will be listed on might take a few days because we have no control of them.
*Please check below for any municipal / association ordinances regarding putting your home up for sale.(eq: pre sale inspection, signage…)
When you get an offer: State law requires that we assist you with negotiations and acceptance of all offers. The Buyer or Buyer's Realtor will  send us a copy of the offer.  We will forward them to you. At that point we will discuss the offer and how we are going to proceed.
iRealty has partnered with local real estate attorneys to provide your legal services. This way you work with one agency for a cohesive transaction.
In regards to holding earnest money, this should be discussed with your attorney.  iRealty does not hold earnest money. advise that your attorney hold any earnest money, not the buyer's brokerage.
For more information regarding legal obligations of a Flat Fee Brokerage please visit our Flat Fee Brokerages page.
Preparing for the Home Inspection Checklist
Municipal Requirements / Inspections
Illinois Transfer Tax Ordinances
Don't tough it out on your own, iRealty is here to help you!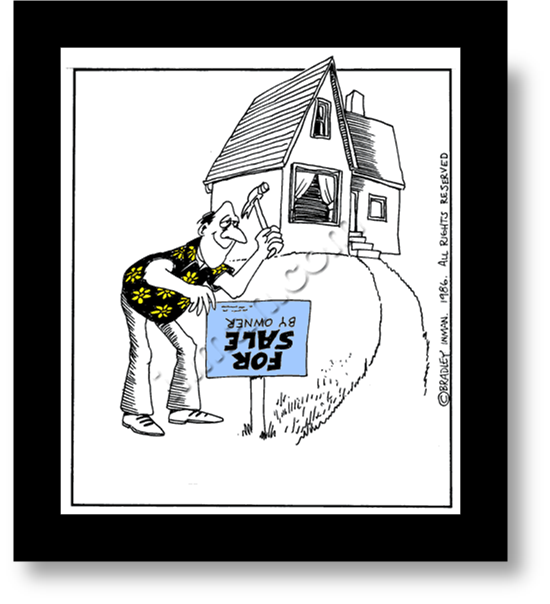 *Note: Program is subject to change without notice. (PS-It really doesn't ever)